Fans Refuse To Turn UP For 'Wizkid Abuja Invasion Concert' | Check Out Comments And Photos Of Empty Seats
Dear Abuja inhabitants, this is not the first time you'll be doing shows bad.. Packaged well for the high class people and yet y'all refused to attend. I was able to gather some hilarious but ridiculous comments from the popular microblogging site for you to read.
The show was meant to kick off at 5pm but was still empty around 9:30pm, we were able to lay our hands on this photo from ICC (the event centre)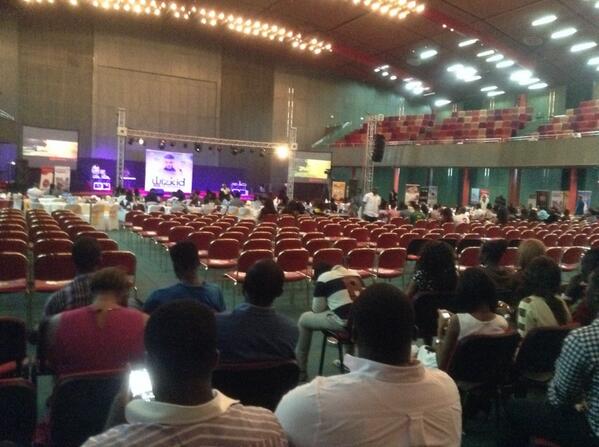 Another photo after the cut
Abuja peeps are normally sad "@elizabethoche: This wizkid's abuja invasion is sad."
— IamGoZieSalvardor (@GozieSalvardor) October 21, 2013
This life."@ikdonimade: Its safe to say here that ABUJA INVADED WiZkid not the other way round I'm sorry"
— «Otumba OCT 16th (@0chizo) October 20, 2013
LMAO RT @sopizzle: A Performin Artiste Gettin Enuf CHEERS 4rm d CHAIRS (WIZKID ABUJA INVASION) pic.twitter.com/phEBVpkWsV cc @ovieo
— Cordell. (@KhidKhordi) October 20, 2013
In other words we heard the after party went well
Wizkid came throughout today finally. #AwonFroshe #AbujaInvasion
— Legit Nwa. (@BoozeBumps) October 21, 2013
IN MY OWN OPINION,
I THINK ABUJA PEOPS ARE JUST KEEPING THEIR HEADS UP, STAYING OUT OF BUZZ. If only our Abuja based fans tell it all whether the publicity wasn't massive enough or they dint just want to hear the 'Sisi Caro' crooner sing.
WHATS YOUR TAKE ON THIS?
Fans Refuse To Turn UP For 'Wizkid Abuja Invasion Concert' | Check Out Comments And Photos Of Empty Seats
Reviewed by
Demola Adetona
on
5:17 am
Rating: